So, after a long 2 weeks of driving & the mass chaos associated with vacationing we're FINALLY home. Back to the snow. For some reason, that's sitting as a better thing that it sounds. -shrugs- It's all good though.

Also, today marks exactly 8 weeks with the new little bean. Took my first belly shot since finding out & already you can tell a bit that there's something there. I guess that's what to be expected so early for #3.

? - Any other potential September 2010 mommas out there?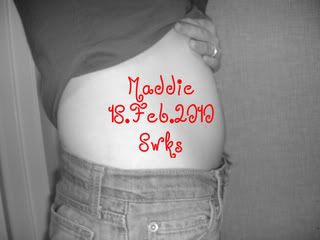 Oh! Back to business real quick...I'm working on a Spring Giveaway package filled with samples of a few different items from the store. Look for it around the beginning of March! Also, many more products will be added up online since we're home, both via the AwLiKids website & my eBay name, awlikiddos. If you or anyone you may know is interested, please pass on the good info!
-Maddie