In the mild chaos that was my morning I forgot to add that mommyx3monsters is currently throwing it's 300 Fan Giveaway!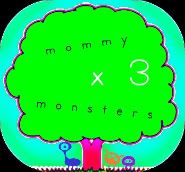 Check out our Facebook page for the great freebies. Giveaway will run til Monday (3/21) & we will be accepting sponsors until Friday (3/18). To sponsor just shoot me an email at mommyx3monsters@hotmail.com & let me know either what item for your store you're willing to giveaway for free or the amount of store credit you're willing to offer. I've done several of these & they're awesome for business!

Thanks again everyone for helping us hit this milestone!