Day 31 - A picture of yourself.



Thanks, it's been fun!

Now on to more Friday Fun...
Head on over to either Home Grown Families or Mama to 4 Blessings for the Friday Blog Hop!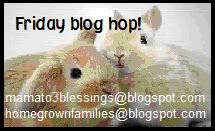 Also, don't forget to visit Chantel over at Growing Up...Townsend Style! while you can & enter the giveaway for a FREE custom AIO!