Shop - Tomorrow (4/15) will be the last day to place orders until 4/25. My family is going to be out of town next week & while you can still place orders, nothing will be worked on/shipped until the week of April 25th.

Blog - In order to keep more active around here I'm wanting to experiment with a series of blogs called 'DIY Friday'. Anything & everything you can make, craft, bake, or beyond & are willing to share a tutorial with us, PLEASE email me! It's all about going greener, both for the environment & our wallets. ;)

Family - Just realized I haven't had any updates on the monsters in awhile.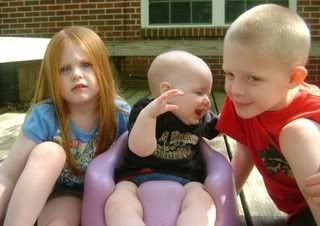 Drew is doing great in school (prek) & has been reading little stories to me & his sisters the past few nights! I'm so proud of my big man...he had a field trip to the fire station earlier this week & had a blast. Boys + Fire Trucks...what else could you ask for?
Lyn is getting so big so fast. She'll be 4 in a few weeks & her party is actually this weekend with friends/family in FL. We've been accident free during the day/nap for almost 2 weeks now(Finally!!!) & she reminds me every day that her goal is to earn 'shiny ears' (getting her ears pierced). You're well on your way kid!
Gwen is now 6.5 months old. Yeah, already. She's everywhere & crawling into everything already. We just recently started her on solids & she tears up her bananas & bread. Not quite a fan of the greens yet, but we're working on it. At her pedi check up she weighed in at 17lbs & 26in / 75th percentile!

Also, we have another surprise addition to the family....Seren!




The kids (including the hubby) decided our mini schnauzer pup, Remy, needed a friend. So we adopted this little lab/shepard beauty last weekend & she's the most chill dog I've ever seen. Her favorite snoozing spot is right by the baby, who usually uses her ears as teething toys. lol




...and that's about it for the moment. Hope all is well with you & yours. Don't forget, if you have a great DIY tutorial you'd like to share, please email me (mommyx3monsters@hotmail.com)!!!

<3 Maddie