While going through my messages recently I realized that the #1 question I get asked ALWAYS deals with something about cleaning our cloth diapers. Well, you asked & now you're in for it....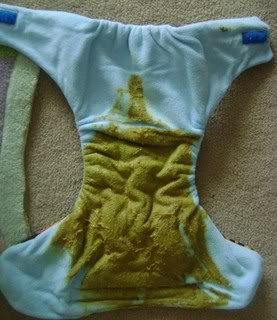 Yes, that is a real dirty diaper. Those with weak constitutions may want to look the other way. But alas, it WILL be shiny & new once again in just a few hours!

Baby diapers, like above, don't have to be rinse/shaken before throwing in the wet bag / pail liner. With older children, once things tend to become solid, jump dump waste in toilet to flush before tossing your cloth in the pail. The easiest way I've found to clean our cloth is to start with a cold rinse cycle. Diapers are stored in a trashcan with pail liner...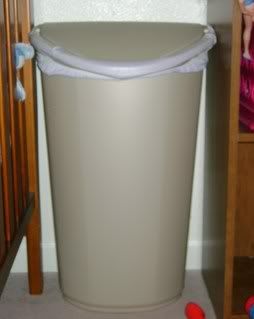 ...when laundry day rolls around, just remove liner & contents, much like you would a garbage bag, & dump everything into the washer. I always try to turn the pail liner inside out so the nasty that have been stuck against it for the past 2-3 days get an extra scrub.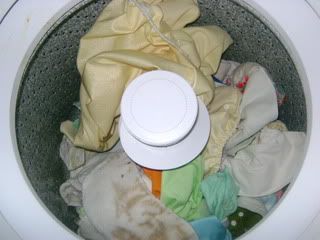 Next I add soap & do a warm wash/cold rinse. A lot of the time you'll hear you need a hot wash, but honestly I've never seen a difference. Warm water is more cost efficient that hot anyway. -shrugs- As far as soaps go I prefer Rockin' Green detergent. It's AMAZING. If you haven't tried them yet, I highly recommend you at least order a sample or two to test out yourself! If not, I've used both Arm & Hammer & Purex brands versions of Free & Clear & both have worked really well too.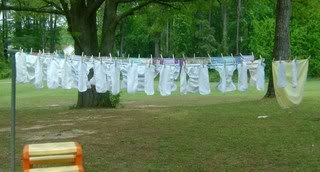 Dry time...weather permitting, I line dry. Cheaper, greener, & better for the diapers all around. Dryers do great in a pinch, but over time the heat can break down the PUL on waterproof dipes.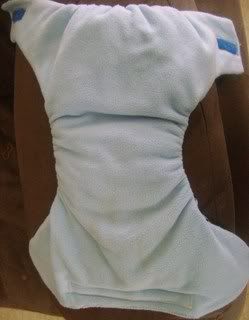 After about 3 hours in the Georgia sun, there you have it! Fresh, clean, & ready to get messy again tomorrow. =)

Also a big shout out to Military Mondays!