While this has nothing to do with the shop or the babies, I really have nowhere else to keep track, so I'm creating yet another use for this little blog.

Last year around the holidays I read an article where a bunch of co-workers each picked a day to bring a baked good to work for the office & called it 'A Cookie a Day'. Since fall is in full swing & the holiday season is right around the corner, I figured what better way to share new recipes than through the blog-o-verse?

I'll be honest. We're not really cookie people in my house. So I'll be doing a new muffin recipe every week (monster permitting) & posting it up here in hopes that someone else will find it interesting enough to share their recipes for whatever baked good of their choice.

Today my girls & I made a batch of Autumn Spice muffins, fitting for this time of year. Lyn acted as my little baker...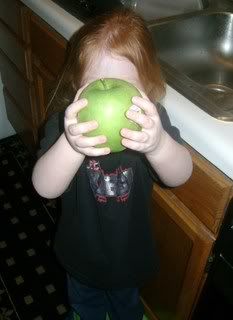 ...while Gwen more or less just supervised.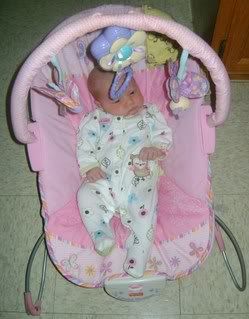 The recipe itself is pretty simple. First, peel & dice 3 large apples (Granny Smiths work great!) & put them into a large bowl & set to the side.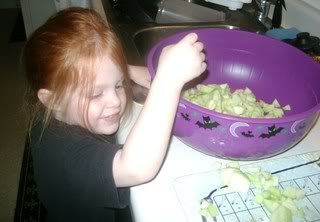 Just watch out for snackers...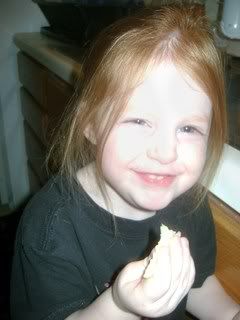 Mix 5c flour, 4c sugar, 1TBSP nutmeg, 2TBSP cinnamon, 2tsp baking soda, 1tsp salt in a SECOND large bowl. Next, add 1LG can pumpkin (29oz Libby's), 4 eggs, & 1c canola oil in the large bowl with the apples & mix.
What the bowls should look like before combining.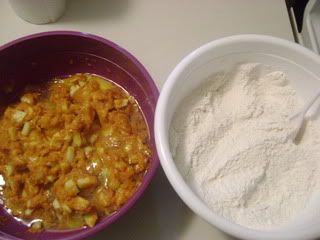 Gradually add dry ingredients into wet & mix well until fully moist. Little tip during mixing...keep the mixer at a low speed, otherwise the apples will magically jump out of the bowl & cause an impromptu costume change. Just ask Lyn.

Fill muffin cups 3/4 full & bake approx 40min at 350*. Told you, super simple, right?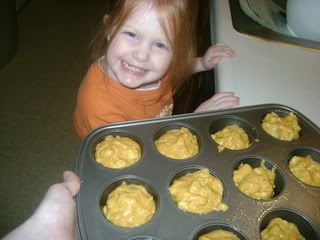 The mix yields about 3.5doz muffins & takes maybe 20-25mins (depending on how many little hands you have 'helping') to mix together.
Ta-Da! The finished product.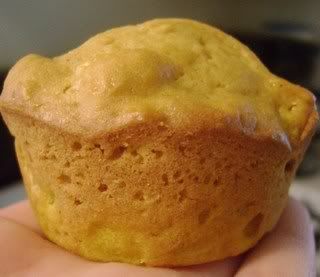 Fresh out of the oven, the baked apples inside are AWESOME. Better than any applesauce muffin I've had.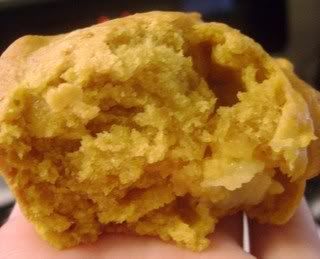 The only down side I've found is since the batch IS so big, it's a lot of in & out of the oven, especially if you only have 1 muffin pan like I do. (-HINT HINT- hubby...lol) Big perk is that they're packed with fruits & veggies, yet my kids eat them like they're going out of style.


Who knew eating something healthy could taste so good? ;)

Anyone else interested in sharing? Leave a comment to let me know so I can check out the goodies! <3