So yesterday I realized something. Not only did Andrew turn 5 on Monday (1st), but Lynneth officially hit the 3.5yr mark (4th) & now tomorrow (6th) Gwenna will be 6wks old. Mix that in with the madness that everywhere already has a ridiculously decorated Christmas tree on display (only
left to shop!) & honestly, where DOES the time go?

Good news, I'm getting my butt in gear & finally getting my college entrance packet & scholarships in order! Yay! Being a member of the awesome c/o 2006 I've felt like an academic slacker lately watching all my friends graduate this past year, but glancing over to the couch at the 2 kids dozing to Jimmy Neutron & the baby already snoring, I'm reminded why I've been so busy. Not a bad trade mind you, but it's definitely time. Especially when both Drew & Lyn will both be in school next year. Aim is for Fall 2011 (again, after the older 2 monsters are back in school) & I'm zoning into getting an AA in Social Welfare/Services. Wish me luck!

Oh, a real quick shop update. I -am- still working on having the soaps & newborn crocheted headbands up. I've been slightly busy the last few weeks & haven't forgotten, promise! Both items will be 100% custom to the buyer as well!

Today the Little Misses & I were also able to whip up Week 3 of 'A Muffin a Week'. Next up...Chocolate Chip Zucchini Muffins! Probably the best find of the bunch thus far. Who knew that something HEALTHY could clear out of my fridge so fast?

Anyway, again, super simple & quick recipe. Grate 2c of Zucchini into a large bowl & set to the side. Or have a little helper grate for you while you get the rest of the ingredients together. Whatever works. =)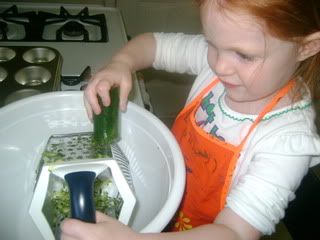 Mix 3c Flour, 1/2c White Sugar, 1c Brown Sugar, 1Tsp Baking Powder, 1Tsp Baking Soda, 1Tsp Cinnamon, & 1/2Tsp Salt in a second large bowl. Add 3 Eggs, 3/4c Oil, 3Tsp Vanilla, & 1/2c Chocolate Chips to the bowl with the Zucchini & mix well. Just be careful with the Chocolate Chips, as all of mine mysteriously didn't make it into the bowl...


You should have something looking like this: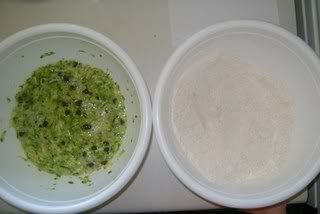 Now, gradually add dry ingredients into the wet mixture & blend. What you'll end up with resembles something that 'Looks like what sissy has in her diaper.' Lyn said it, not me. =p


Gwen, ignoring her big sister's comment.


Anyway, all that's left now is to fill up your muffin pans & bake at 350* for about 20-25mins. Recipe should yield about 2 dozen muffins.
While I was pouring Lyn decided to take an 'action shot' before running off with my camera to 'take pictures of ghosties' around the house. Mental note, schedule an interview with TAPS in about 15 years.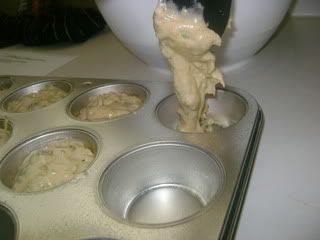 Unfortunately, I don't have an finished product/after shot. My rest of the juice in my camera battery went to the ghostie expedition. They turned out great & super moist though, & like I said earlier, have been a hit around our crazy house & were quickly added to our Thanksgiving dinner list. Enjoy! =)